Business model
The Company is a financial operator of agro-industrial complex development programs and implements them through lending programs provided directly and through financial institutions (KT, MFO, STB, LC, RIC). Lending through MFOs and LCs began to be implemented in 2016 and requires further development. The company also takes part in the implementation of agricultural investment projects.

To reduce dependence on budgetary funds, the Company will diversify its funding sources. Raising funds in the domestic capital markets can be carried out mainly through the issuance of corporate bonds. The society will also raise funds from international financial institutions. The target business model defines two main areas of the Company's activities: financial and non-financial support measures.
The first area will include direct lending with its subsequent reduction to zero by 2025 and indirect lending as the institutional development of financial institutions in terms of financing the agro-industrial complex increases.
The company will also finance investment projects that have the greatest socio-economic effect on the agro-industrial complex.
Financing through credit partnerships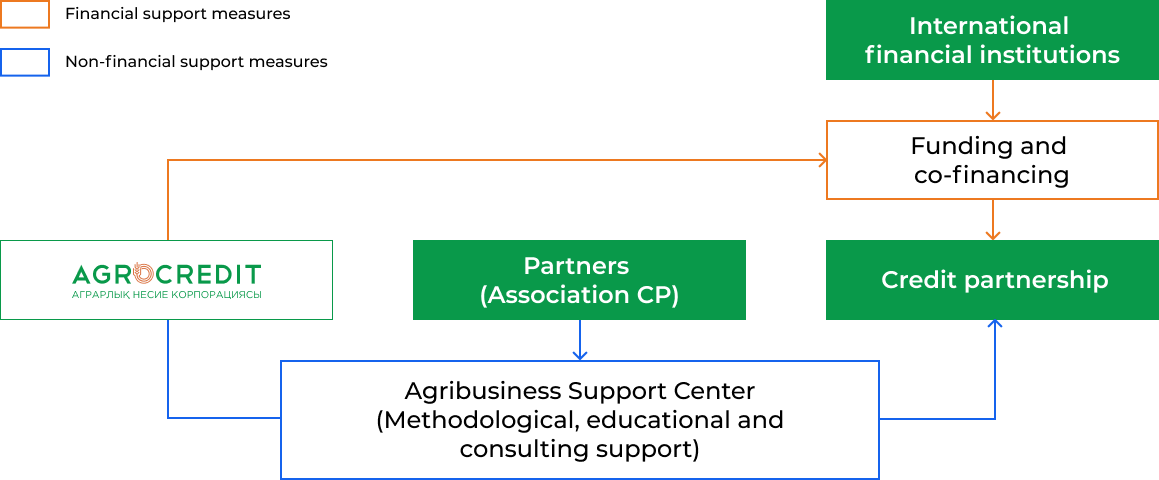 Financing of agribusiness entities through microfinance organizations
Financing through second-tier banks
Financing of agribusiness entities through leasing companies

The Company's product line in 2019
1) "Agrobusiness" program - lending to agricultural producers for replenishment of working capital, purchase of fixed assets and refinancing of outstanding loans.
2) The program "Ken dala" - lending to agricultural producers and agribusiness entities for spring field and harvesting work.
3) Program "Isker" - loans for the production and processing of agricultural products; agricultural cooperatives for the organization of procurement services for meat, dairy and fruit and vegetable products, for the development of non-agricultural business in rural areas.